Hogget Kitchen x Walhalla
Exclusive pop-up lunch event in the Historic Township of Walhalla with Gippsland's very own Hatted Restaurant Hogget Kitchen!
About this event
Join us for an exclusive showcase of Baw Baw's finest produce and culinary talents with a pop-up lunch by Hogget Kitchen in the historic township of Walhalla Victoria.
Gippsland's own hatted restaurant Hogget Kitchen is packing their knives and forks and bringing a little bit of Christmas-in-July spirit from Warragul to Walhalla this winter.
Partnering with Baw Baw Shire Council and the Walhalla Goldfields Railway, Hogget Kitchen will bring an immersive fine-dining experience to the rustic halls of The Goods Shed, Walhalla on Sunday the 3rd of July.
Based in Warragul, Hogget Kitchen's ethos is centred around a Nose-to-Tail approach, sourcing only the freshest produce locally and an ever-changing menu which is influenced by the abundance of each season.
There will be two sessions of the experience commencing 10:30am and 1pm. Each paired with a train ride departing from the historic Walhalla Train Station.
Mingle with friends over mulled wine, hot chai and nibbles served fresh on the platform. Then it's all board the train for a private ride along the 4kms of scenic historic railway, taking you on a spectacular journey through the Stringers Gorge and across bridges on the way to Thomson River.
Session One
10:30am – Event start and refreshments.
11:00am – Private train ride along the Goldfields Railway
12:00pm – Depart train and commence two hour lunch
Session Two
1:00pm – Event start and refreshments.
1:30pm – Private train ride along the Goldfields Railway
2:30pm – Depart train and commence two hour lunch

MENU
ENTREE
Noojee Trout Vol-au-vent – Confit Trout from the Alpine Trout Farm, Trout Roe, Gippsland Jersey Champagne Cream & Wild Baw Baw Herb Salad.
Wine Pairing: Entropy 2021 Semillon/ Sauvignon Blend
MAIN COURSE
Traditional Christmas Roast – Gippsland Free-range Pork Porchetta, Leadoux Roast Turkey, Seaview Park Lamb and Hogget's own Smoked Ham
Baw Baw Food Hub organic Roast Vegetable, including Jones 'Yukon Gold' Potatoes
William Downie 2021 'Gippsland' Pinot Noir or Patrick Sullivan 2021 'Baw Baw' Chardonnay
DESSERT
Hogget's house-made, organic fruit, Christmas Pudding with Brandy Snap Basket and Vanilla Gippsland Jersey & Elderslie Organic Eggs custard and Milk Ice-Cream
Wine Pairing: Wild Dog 2017 Noble Riesling
A wine pairing tasting is available as an optional extra, to avoid disappointment, please ensure you select the option at checkout when booking your tickets. A limited cash-only bar will also be available for additional refreshments.
For more information on Hoggot Kitchen visit their website at https://www.hogget.com.au/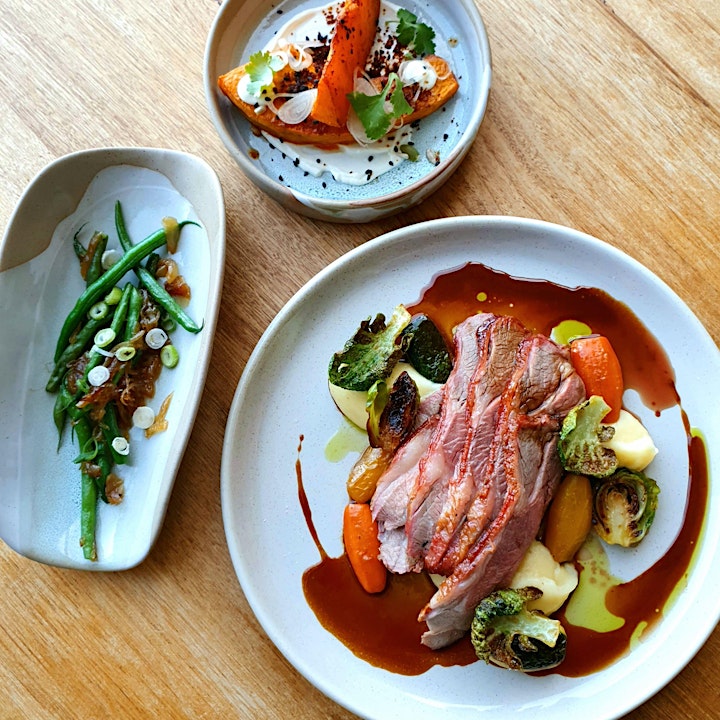 Some tips for planning your trip:
Make a weekend of it
Head to https://www.visitgippsland.com.au/destinations/west-gippsland/walhalla to plan your trip and discover the other adventures our region has waiting for you!
Fill up with petrol leaving the main roads
Please be advised there are NO petrol stations in Walhalla, or the surrounding towns of Rawson and Erica. There are plenty of places to fill up in Yarragon, Moe or Traralgon, however.
Parking
Visitors attending the event will be encouraged to park their cars at parking lots available along Main Rd Walhalla.
Included with your ticket
Tickets include entry to the event, beverage, Walhalla Goldfields Railway Experience and three course lunch.
ATMs
There are no ATMs in the area, While EFTPOS will be available, visitors are also advised to have cash.
Getting to Walhalla
Walhalla is located 180km east of Melbourne via CityLink or EastLink to the Monash Fwy then to the Princes Fwy (M1) taking signed exit at Moe. Allow 2-2.5 hours.
This event is part of Baw Baw Shire Council's COVID Safe Outdoor Activation program made possible by the support from the Victorian Government.
Please do not attend if you have any COVID-19 symptoms or if you should be isolating.
Council is committed to Child Safety.